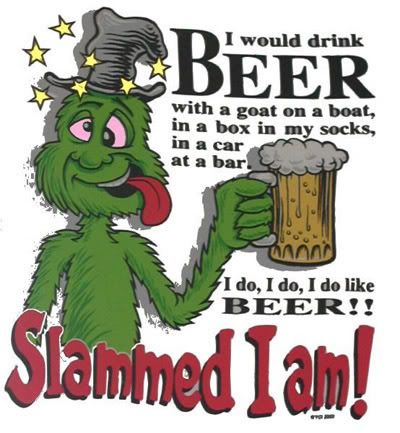 If Dr. Seuss was a heavy drinker... lol
Seriously though (and it's really sad that I have to actually say this in this day & age), please understand this is parody. NEVER drink beer in a car or drive drunk - and I don't advocate getting 'slammed' either. Yes, I enjoy a good beer buzz, but a responsible drinker knows when they've had enough, and especially when to NEVER get behind the wheel. If you want to drink beer in a box in your socks, however, that's up to you.
Please excuse my absence the past few days, but I've been a bit sidetracked with a pesky little thing called 'real life'. It can get so annoying at times! But I'm back and ready for more new beer experiences.

First a few general updates:
I've been 'browsing' my
BJCP Study Guide
, but beginning this weekend, I plan to dive in head first. Read through the entire study guide and further investigate the first steps I need to get my BJCP Certification.
There were also some big personnel changes. Jeanelle Pritchard resigned from
Trade Route Brewing
and Chris Miller resigned from
Snipes Mountain
for a new opportunity in California.
Also, in a change that affects me personally, since this is one of my regular haunts, Bill Jenkins is leaving as head brewer of
Big Time Brewing Company
in Seattle's University District. Bill has been at Big Time for years, making truly world-class beers (as well as a few 'experiements', some amazing, some disappointing). If Bill has to go, however, what better replacement than his brewing brother (in law), Drew Cluley! Drew has been the head brewer at
Pike Brewing
Company for several years, but he is leaving The Pike to replace Bill as the new brewer at Big Time.
Yeah, yeah. I know it's still two months away. I just want to make sure you're all keeping it on your radar! Let me just give you their website for now:
SeattleBeerWeek.com
Maritime Pacific Brewing Company
will be brewing this year's Official Seattle Week Beer.
Tonight on my way home, I'll be making a trip to my local bottle shop,
99 Bottles
. I will, of course, pick up a few favorites, but I'm also planning to grab a few new beers, so I can continue to improve my tasting abilities, and provide all of you with more in-depth beer reviews.
Drink responsibly and stay safe out there!